Marble Cake
I love marble cake! It reminds me of my childhood, and also of my mum as it's one of her favourite cakes. There's something about this fluffy vanilla sponge marbled with chocolate and topped with a rich chocolate frosting which is just irresistible. I mean it - this cake is gloriously fluffy! Give it a go!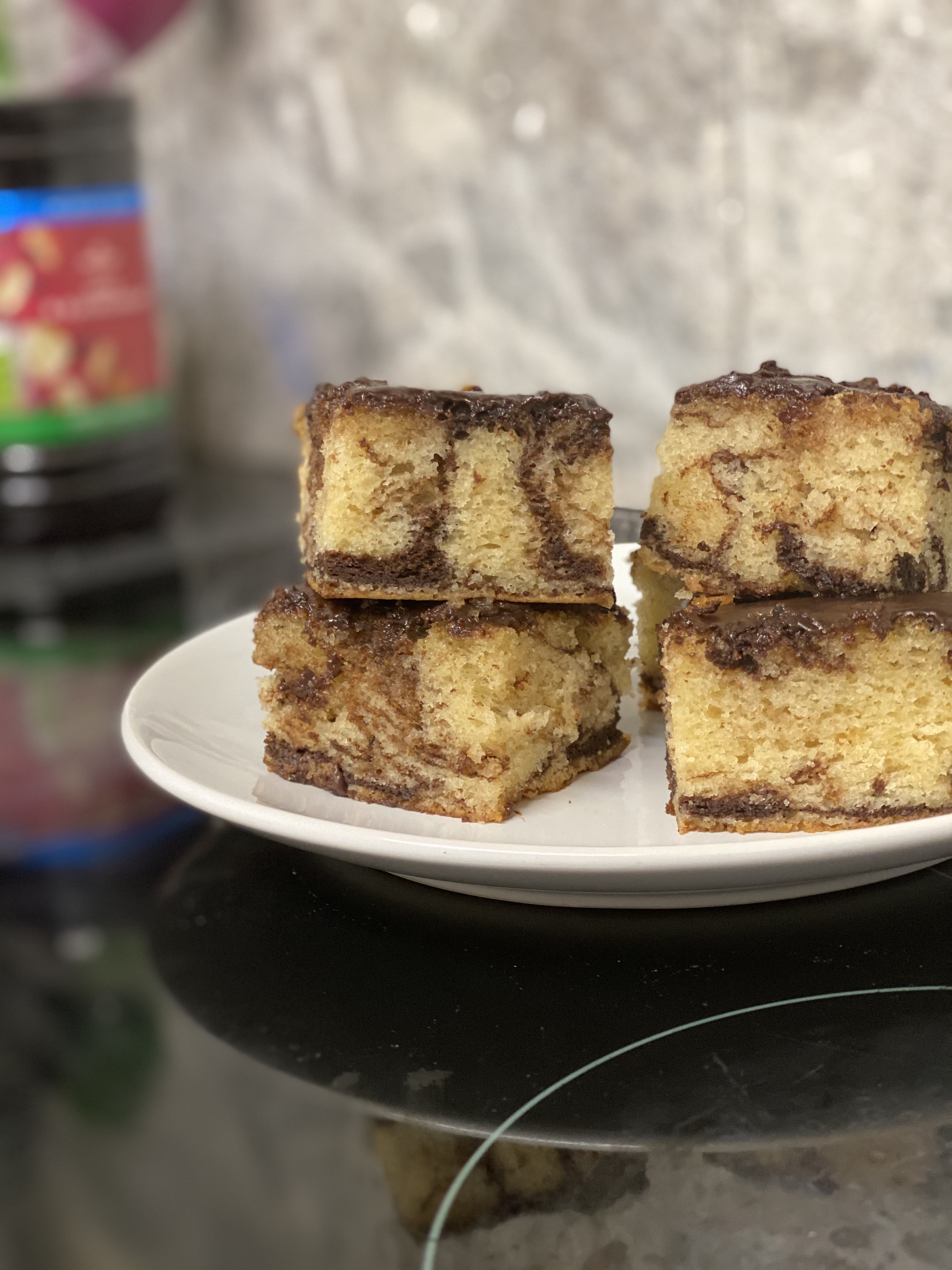 FOR THE CAKE
5tbsp (75ml) warm water
45g cocoa powder
260g vegetable oil
330g caster sugar
6 eggs
1tbsp vanilla extract
330g plain flour
1tbsp baking powder
3/4tsp salt
1/2tsp bicarbonate of soda
225g full fat natural yoghurt 
150g dark chocolate chips (54% cocoa solids is best, milk is also fine)
FOR THE ICING
150g dark chocolate (70% cocoa solids is good!)
110g butter
90ml double cream
75g icing sugar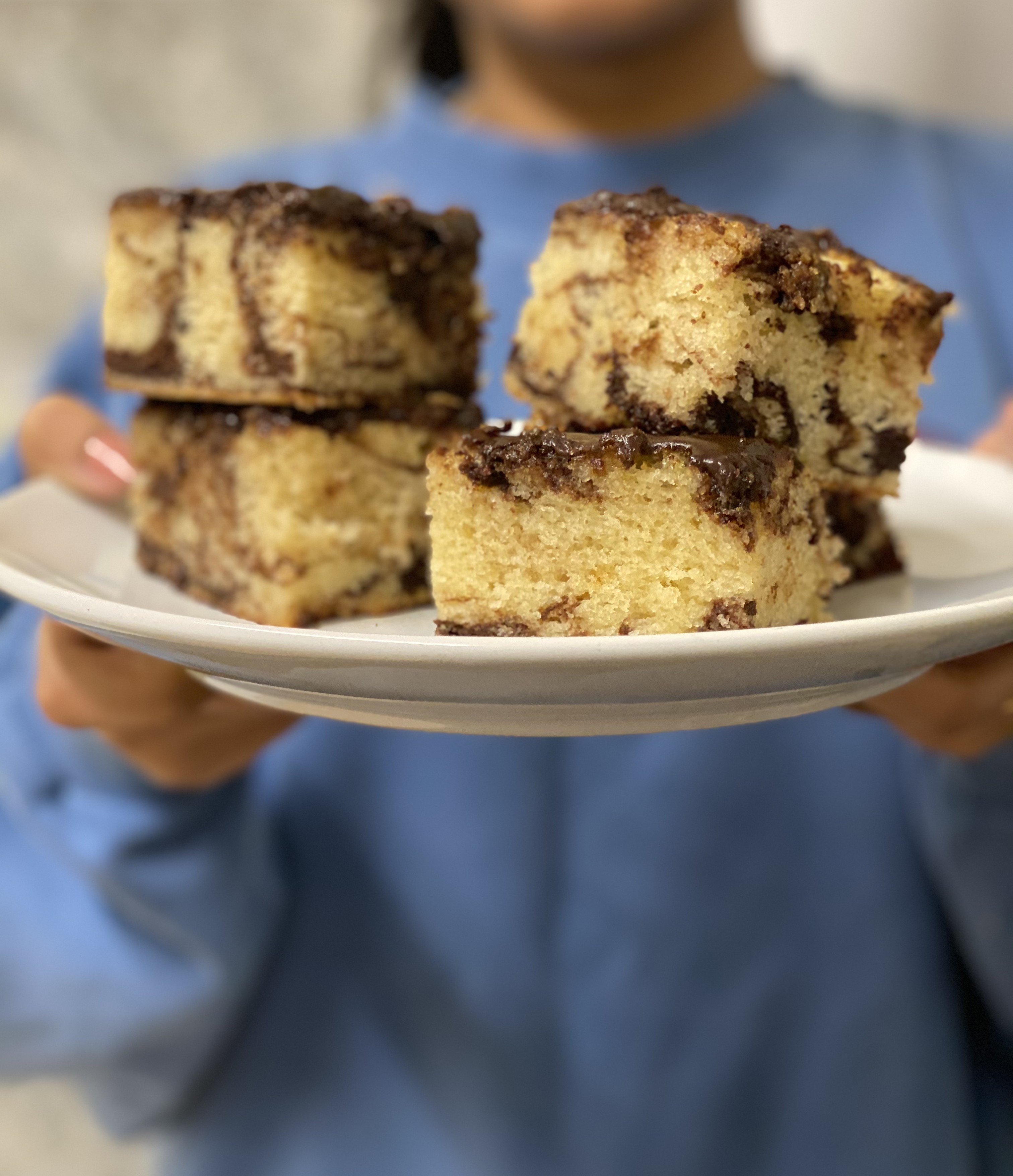 1
Preheat the oven to 170°C. Grease (I like to use spray oil) and line a 9x13-inch baking pan with baking parchment. I like to have the sides of the parchment overhanging on each side of the pan so the cake is easy to lift out.
2
Dissolve the cocoa powder in the warm water and set aside. It might go a bit lumpy at first, but keep mixing and it will come together!
3
In a large bowl, beat together the oil and sugar. Add in the eggs, and beat until you have a smooth mixture. Beat in the vanilla extract. These are your wet ingredients.
4
In a separate bowl, sift together the flour, baking powder, bicarbonate of soda and salt. Fold in half of this mix into the wet ingredients.
Fold in the yoghurt, followed by the rest of the flour mixture.
5
Take about a third of this mix, and stir it into the cocoa mixture you prepared earlier. You now have a vanilla, and cocoa batter.
6
Now to fill the tins. I like to dollop big spoonfuls sporadically across the pan, alternating as randomly as I can. Scatter the chocolate chips over the batter as you go, so they're throughout the batter. 
Once all of your batter is in the tin, get a skewer or knife and swirl the batter around. Don't do this too much otherwise both batters will combine into one.
Bake for 40-45 minutes, or until a skewer comes out clean. If it does not, return to the oven for a further 5 minutes, until it does.
7
Whilst your cake is baking, get on with the icing. Add all of the ingredients into a saucepan, and let melt over a low heat, whilst constantly stirring.
Once everything is melted and combined, set aside. Periodically give the mixture a beat with your spoon to ensure it remains smooth.
Once the cake has cooled for about an hour or so, pour and spread over the frosting in one even layer. Now, you can wait for it to set, but if you are impatient like me when it comes to cake, slice right away! I like to trim the edges, then cut 4x4 to make 16 tall, fluffy cubes of cake. Enjoy!
STORAGE NOTES:
Keep at room temperature, or in the fridge for up to 3 days, stored in an airtight container. Feel free to experiment with the flavours here! Perhaps flavour the vanilla sponge with orange zest for a chocolate orange marble cake! Or perhaps replace 1tbsp of the cocoa powder for instant coffee for a mocha marble cake. Or mash a banana into the white batter for a chocolate and banana marble cake. If you wish, you can halve this recipe for a 7x7 inch pan.